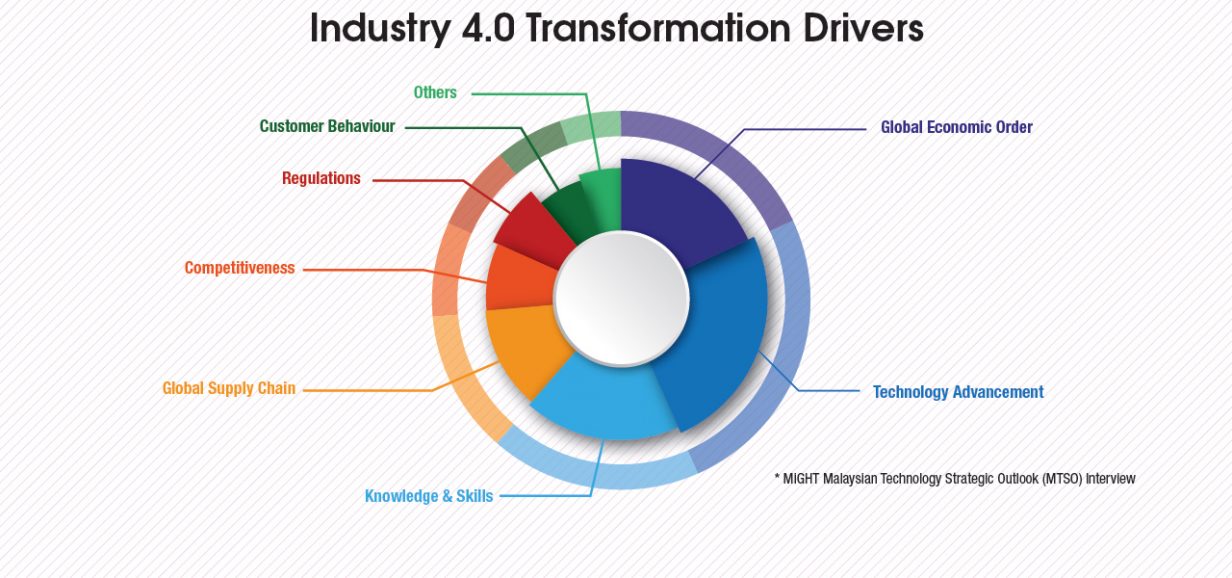 Driven by Multiple Factors
INDUSTRY4WRD : NATIONAL POLICY ON INDUSTRY 4.0
This article was first published by Ministry of International Trade and Industry (MITI) 2018.
The manufacturing industry is increasingly shifting towards producing more technologically-complex products.
It is no longer enough for the manufacturing industry to make better things – creating innovative products and services that will meet customer needs – but also to make things better – facilitating the design engineering, service planning and execution as well as improving the management and production processes. Furthermore, despite steady improvements in the manufacturing output and employment in the sector, renewed investments will be needed to build the necessary infrastructure and increase resources to support the continuous growth.
This emphasis on "making better things while making things better" is driven by the following factors :
Shifts in the global economic order – the rise of China, economic realignment due to changes in the developed world, and the rise of fast-growth emerging economies;
Rate of technology advancement and its convergence – technological changes driven by applications of these technologies in the manufacturing industry, such as big data, the Internet of Things (IoT) and cloud computing;
Knowledge and skills for the future – retaining talent and producing future workforce by taking advantage of the opportunities of this transformation;
Global supply chain dynamics – increasing complexity in the supply chain networks caused by distributed sourcing, engineering and production as manufacturing firms now manage partners in a borderless world not bound by geographical locations;
Competitiveness of nations and firms – greater global competition as firms must defend their domestic markets while simultaneously tapping into new market segments for long-term growth;
Increased regulations – environmental concerns and standards-based factors like ISO compliance that apply across an increasingly interconnected world;
Changing customer behaviour – influenced by values, personalisation and customisation, and the emergence of new products and services attributes that are forcing firms to reassess their manufacturing systems.